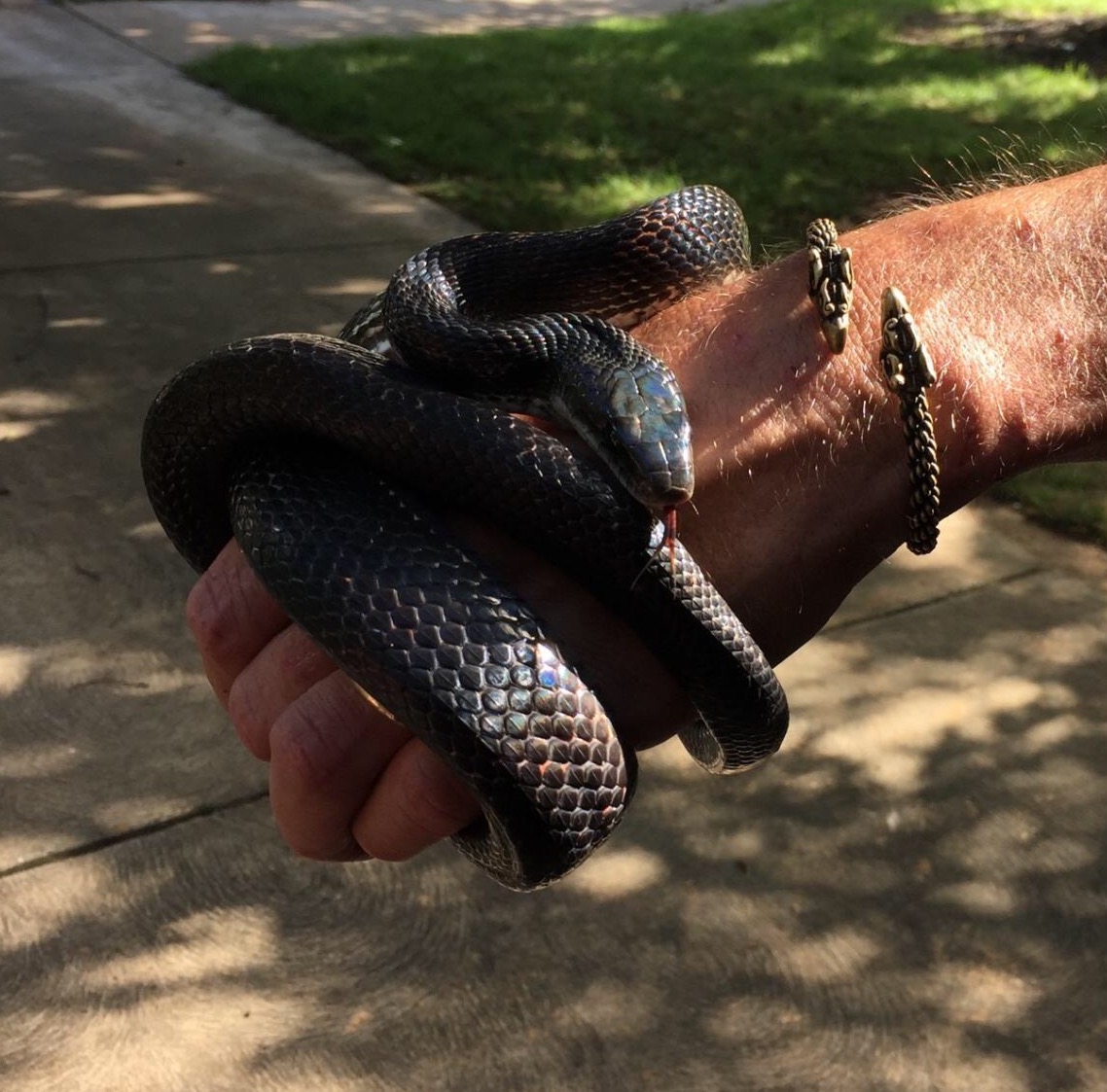 Black Rat Snake
By Holly Jo Linzay
Slithering along the brick wall, the long black snake climbs up higher and higher. Michael Beran, owner and CEO of Wildlife Command Center, drives up to the house in his work truck responding to the service call.
"He's climbing on the side of the chimney. Classic rat snake right there," Beran points out.
"They are excellent climbers," he adds.
Taking a moment to admire the acrobatic qualities of the black rat snake, Beran decides to watch the snake climb more since the snake was not going far. "See where he makes the S's in his body? That's where he is hanging on," Beran points out. "And then he is moving forward with the locomotion of his ribs. That is classic Missouri rat snake. It doesn't get any better than that."
The rat snakes are constantly seen crawling up to people's eaves to get into bird's nests. The black rat snakes eat a lot of rats and rodents in people's attic spaces.
"Any time somebody has a black rat snake in their home, we know for a fact they have some type of food source such as baby birds, rats, bats or mice," Beran said.
Because the presence of a black rat snake inside the home could indicate another pest problem, it is a good idea to contact a professional. Though black rat snakes are non-venomous (not poisonous), it is not advisable to handle a wild snake. Beran recommends consulting a professional.
"These snakes won't bite as long as you don't squeeze them," Beran said as he placed his hand in front of the black rat snake to stop it before it could disappear into a hole.
Reaching for the snake gently, the snake hisses at Beran as he picks it up. Its forked tongue darting out of his mouth, Beran places it in a secured snake bucket.
Snakes in Commercial Buildings
During a workday, the Wildlife Command Center technicians may get multiple service calls concerning snakes. Sometimes in unusual places. The next service call Beran had pertained to a black snake on the rooftop of an 11-story commercial building.
"Whew, those last three flights of stairs about killed me," Beran said with a laugh, after climbing up to the rooftop.
He theorized the black snake might have climbed so high to reach a food source like baby pigeons. Often, the best way to mitigate a rodent or pest issue is to remove their food source. He notes some pigeon "spikes" installed to deter pigeons roosting on the rooftop.
Rat snakes are extremely agile, Beran adds, "They are the best climbing snakes in North America."
Beran looks around and finds the long black snake hiding on the rooftop. Hissing, the female snake strikes at him several times, but Beran manages to safely capture the snake.
The next service call, Beran heads to an industrial complex where he spots several black rat snakes. The snakes will scale a building vertically to seek food.
"Snakes will climb up a structure and find a starling nest and wipe out the whole nest of birds. Starlings are an invasive species. They help control starling populations," notes Beran.
Safe Black Snake Removal
Black rat snakes, which are usually very timid, are often mistreated by humans, Beran said, because they are frightened of them. The black snake's head is oblong shaped. But when a black snake feels threatened, it will mimic venomous snakes. A black rat snake will flex the muscles in their head to become more triangular like a venomous snake. It is a defensive mode. Often, the black rat snake will vibrate its tail to rattle as another defensive maneuver. When cornered, the black snake, which is not naturally aggressive, will assume a kinked posture and remain motionless. They will vibrate their tail and expel a malodorous musky scent.
Generally, sleek and shiny black, with a faint white between its scales, the black rat snakes are both terrestrial and arboreal, and are adept at scaling buildings or trees. The typical breeding season for the black rat snake is from May to June. The female snakes lay dozens of eggs at a time.
Wildlife Command Center technicians provided a full-service snake inspection and service.
"We will come out and do a search and capture," explains Beran. The crew will search and capture snakes for a full hour, and then put down seven specially designed snake traps. The traps are left in place to trap snakes for seven days. At the end of that week, the Wildlife Command Center technicians will return and put out snake repellent. Additionally, the team will conduct another snake search and capture. Two snake traps remain in place. The snake repellent remains effective for 60 days and disorients snakes.