Raccoon Removal
By Holly Jo Linzay
While a raccoon may look like a cuddly bandit-masked creature, one should approach it with caution. Normally, not aggressive, a raccoon can be dangerous if cornered, injured, sick or attempting to protect their young. In fact, a raccoon when it feels threatened, may viciously strike out.
Michael Beran, owner, and CEO of Wildlife Command Center, knows first-hand just how sharp a raccoon's claws and teeth can be.
"I've had 137 stitches from raccoons, more than any other animals," Beran emphasized.
He said an injured raccoon is the most dangerous. "They will hurt you. They can be very unpredictable," Beran noted.
Many times, homeowners try to remove a raccoon from their attic with disastrous results, not realizing how protective a female raccoon can be to protect her young. But the technicians with Wildlife Command Center have years of experience with raccoon eviction services.
Often, the technicians respond to a service call involving a family of raccoons. Most of the construction of homes in the south include a fireplace.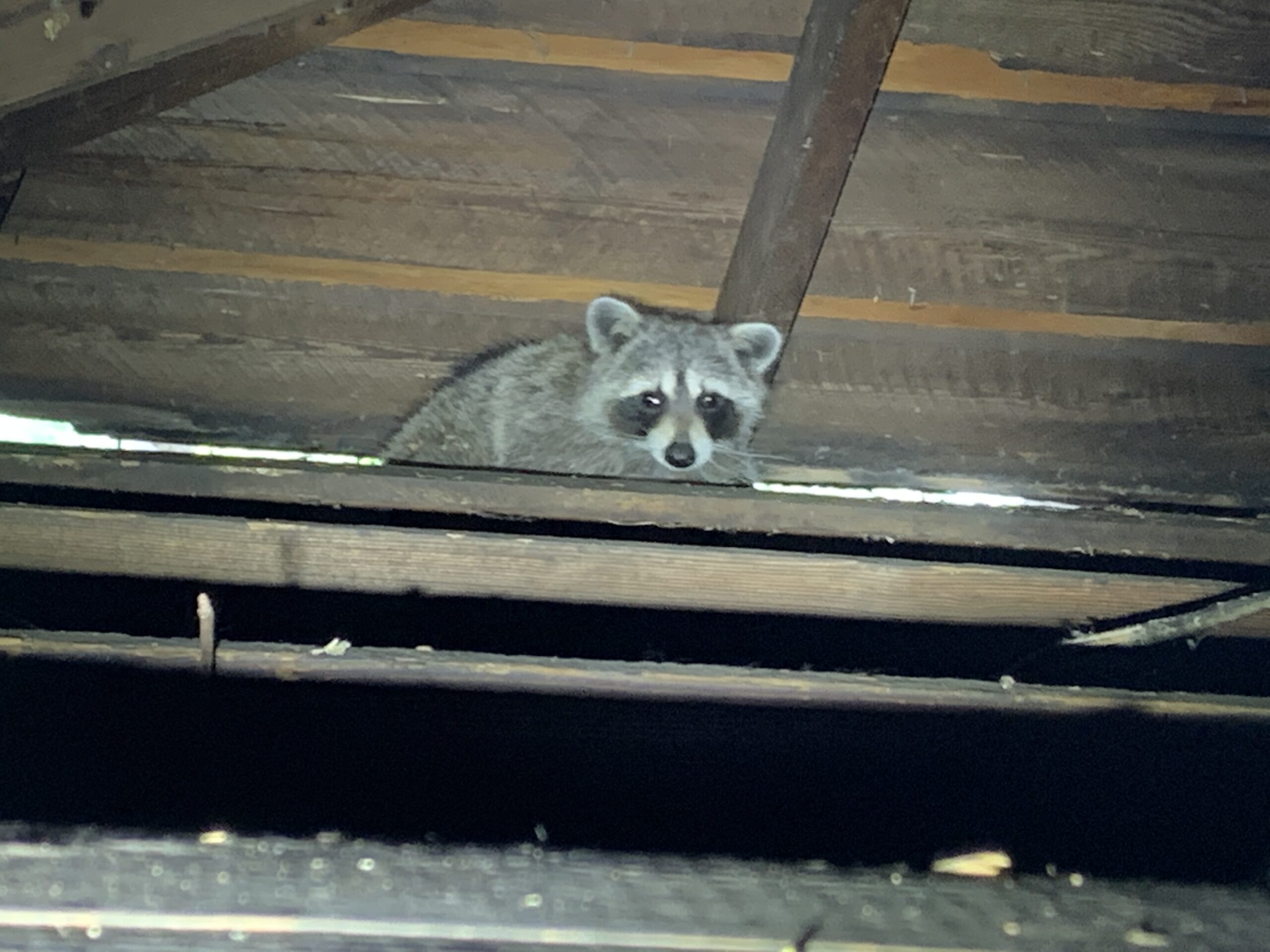 Raccoon in Chimney
"This day and age, people have converted their chimneys from wood burning to gas burning. And the dampers have a spacer in it that doesn't allow it to shut all the way. So hot gases from the gas fire can escape through there. Female raccoons love this technique because they can have their young on the smoke shelf and never have to worry about smoke," Beran said.
To safely remove a family of racoons from a chimney, the technician will embark on what Beran said is "psychological warfare." Incorporating the use of Raccoon Eviction Fluid, the technician places just the right amount of the fluid to convince the female raccoon the smoke shelf is no longer a safe place for her kits, her young.
"The eviction fluid is made from the glands and urine of a male raccoon," Beran noted.
A female raccoon will move her kits to a safer place when she smells the fluid because it tricks her into thinking a male raccoon has discovered her nest.
"The male raccoon will kill young raccoons anytime they can find them. The male raccoon wants to spread his seed, his DNA, his genetics. He does not know where those young are from, so he'll kill all of them. Then he'll follow that female relentlessly until she cycles again and comes into heat. And then he will breed her," Beran pointed out.
The placement and amount of the raccoon eviction fluid is important, according to Beran. "The raccoon eviction fluid is not a deterrent. It is psychological warfare. This is trying to create a menace in a female raccoon's mind. She will be uneasy and move her young on her own," Beran said.
The raccoon eviction fluid works best from December through April, Beran noted, as those are the birthing months. At times, when a homeowner tries to use the eviction fluid, they use too much or do not place it properly.
"If you mess up one step along the way, you can really mess up," Beran said, adding another reason to call a professional to handle a raccoon eviction or invasion.
Raccoon Trapping in Home
The urban raccoon population is different from the rural raccoon population. In the rural community, there may be two raccoons surviving in a one-acre area compared to about 300 raccoons living in a one-acre urban area. This is largely in part to the artificial food sources like pet food left in bowls, bird feeders, water sources and artificial habitats.
Over a three-week period, the technicians once extracted 37 raccoons from one house and incorporated the use of cameras and special traps. The resident became overwhelmed with the raccoons after starting out feeding peanut butter cookies to the critters.
On various service calls, Beran has seen the damage caused by raccoons setting up their nests in attics, chimneys, and abandoned buildings. Sometimes they will shred insulation and make holes in shingles to scuttle into a home. During another service call, Beran used thermal imaging cameras to locate any raccoons up under inside the house. He found the entry point and safely extracted three baby raccoons while the nursing female raccoon was not present. Typically, a female will have 4 to 5 young.
If a raccoon is sick, it can and will attack without being provoked. If bitten or severely scratched, a person could get infected with rabies and will require a series of rabies vaccines.