By Holly Jo Linzay
Exhausted after work, the couple wanted to retire early and get a good night's rest. After settling down, they were drifting off to sleep. In the quiet of the night, a scratching rustling sound was heard for a few minutes, then it stopped. Again, the sounds were heard. Faced with the dreaded revelation that rats or mice were in their walls, the couple decided to contact Wildlife Command Center for some professional help.
Michael Beran, the owner of Wildlife Command Center, said there are a lot of rodent problems this time of year.
"We have squirrels having young, we got mice and rats wanting to be inside and we got field mice that normally stay outside but want to be inside. Then we have house mice that are having tons of babies," Beran said.
Besides the noises in the wall, the couple discussed with Beran other things they have noticed in their home. A foul stench of urine was smelled in a closet and mice droppings were discovered by a pantry wall. Seeking a professional's advice, Beran, said there are three important things when it comes to trapping rodents.
"What is really important is how many traps you set, how you bait the traps and how you place the traps down to catch the animals," Beran said.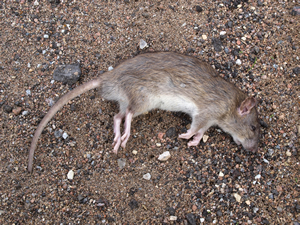 Trapping Rats And Mice
Wildlife Command Center technicians are available to handle rodent problems but to help homeowners who want to attempt to catch the rodents plaguing their home, Beran has recently made a YouTube video. He demonstrates several types of traps available, how to properly bait a trap and the most effective placement of the baited traps.
"The quantity of traps you set has a lot to do with how successful you will be," Beran noted.
For an average two-story house with a basement, Beran estimates there might be between 50 to 60 rodent traps needed or more. For every mouse seen, there is between 12 to 15 mice you do not see, he noted. It is important, Beran said, to be willing to buy enough traps to get the job done.
"We have gone into homes where they saw a few mice, but we caught between 30 to 40 mice. Several homes were infested," Beran said.
There are a variety of mouse and rat traps available, and there are pros and cons to each one. The two traps you see used the most are the standard wooden Victor trap, which costs about $2 each, and a plastic spring-action trap. Properly baiting the trap is key. On a professional level, Beran said he uses peanut butter as a bait.
"Peanut butter as a bait is excellent because it tastes good, and it makes a great lure because it smells good. We use peanut butter as a glue to hold your real bait. We like to use cockatiel food mix as the real bait. It's about $6 for a 4.5-pound container. If you have rats in your house, spend the money and buy you some good bait," Beran stressed.
The cockatiel food has large and small seeds that stick to the peanut butter and smells good. In the video, Beran shows how to place the peanut butter in the trap bait "well," and how to scrape off any excess.
"You don't want excess peanut butter on the side for the mouse or rat to lick it without setting off the pan on the trap," Beran said.
Once the peanut butter is placed in the well, Beran demonstrates on the video how to dip the trap in the container of cockatiel food so the seeds will stick to the peanut butter. Always set the trap near where you are going to place your trap, Beran said. The Victor wooden trap has a spring, a kill mechanism, a pan and a trigger mechanism. The pan can be tilted up. Another kind of trap is plastic and has a round bait well. There is no tension on this trap, and it cannot be adjusted. However, it is easier to set.
"You want to place the trap near the rats or mice travel pattern. Do not place the traps everywhere because that will not work. The mouse or rat has to travel across the kill zone. Force the mouse or rat to eat the bait and step on the trigger. It will smack him," Beran stressed.
For a demonstration of baiting the trap and placement of the trap, watch the video at: http://youtu.be/GyQDT7u/cH8